​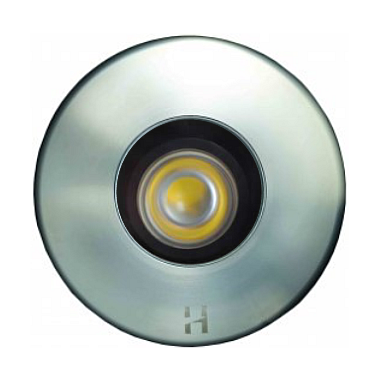 The Hunza Tilting Step Lite PureLED is designed with an 88mm (3½") flange for flush mounting into masonry, stone or wood. This luminaire is ideal for illumination of steps and ground level horizontal lighting, for example, across driveways or exterior paved areas. When a canister is used there are no mounting holes in the flange.
The tilting module allows 360° rotation and 12° tilt from the centre. The spherical gimbal allows infinite beam correction for uneven surfaces and directional adjustment for glare control.
The Hunza PureLED system uses the latest Cree MTG-2 LED chips for maximum performance and long life. Power supply options include a choice of integral 12 volt driver or an external remote driver. The PureLED system incorporates an innovative Plug-and-Play system for easy replacement or upgrade of either the LED engine or integral driver. Four beam angles and a choice of a Warm or Cool White colour temperatures are available.
* At 700mA this fitting is the equivalent of a 35w halogen fitting.
* At 1050mA this fitting is the equivalent of a 50w halogen fitting.
Lifetime Warranty on Lens Breakage
_
---
Available Options & Finishes
Copper, 316L Stainless Steel and Powdercoated Aluminium:
SL-TLTM Tilting Step Lite
Accessories
CJK150 – Cable Joint Kit (available in single kits or packs of 5)
SL/CAN-A – Aluminium Step Lite Canister
CAN-SS – 316 stainless steel Step Lite Canister
Dimensions
Tilting Step Lite
Downloads
Tilting Step Lite PureLED.pdf
---