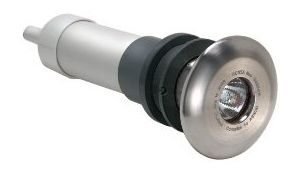 The Hunza Pool Lite is machined from 9mm thick marine grade, 316 stainless steel and is electro-polished to increase it's corrosion protection.
This fully waterproof light is supplied with a tempered glass lens, high temperature silicon gaskets, and an engineering grade PVC Wet Niche mounting canister. Also complete with 6 metres of submersible cable, 600mm of which can be coiled up inside the mounting canister, enabling lamp changing above the water line (other lengths available on request).
The luminaire is supplied with a 320mm Wet Niche PVC canister and secured by two 'O' rings. This means there are no mounting screws in the flange to spoil the aesthetics of the luminaire.
This pool light can be installed in three different types of pool wall.
Fibreglass Pools
Existing Concrete Pools
New Concrete Pools
This low voltage luminaire is suitable for use with MR16 – 20, 35 or 50 watt lamps and is supplied with a high quality European lamp.
NB: Out of balance pool chemicals may cause the fitting to corrode at a rapid rate. In the case of salt water an increase in water temperature of 10 degrees will double the corrosion factor. 316 stainless steel is suitable for situations of up to 1000 parts per million of chloride. Where an automatic chlorinator is employed an excess amount of chlorine may be produced.
Check with your Local Electrical Authority for pool zone installation regulations.
The Hunza Pool Lite is electro-polished, this finish increases the protection against corrosion by up to 33%.
Lifetime Warranty on Lens Breakage
---
Power Supply
Light Ideas T-20 or Hunza Buriable IG20 safety isolating transformer (single installation), multi installation with any of the Light Ideas transformer range or Hunza IG safety isolating transformers, alternatively the Hunza Wall Mount series WMl00 – WM3OO Double Insulated Safety Isolating Transformers.
Available Options & Finishes
Electropolished 316L Stainless Steel
POOL Pool Lite
POOL/CAN Pool Lite Canister 320mm long
POOL/CAN220 Pool Lite Canister 220mm long
POOL/CAN180 Pool Lite Canister 180mm long
SR Pool Lite Canister 125mm long with separate end cap
Accessories
CJK150 – Cable Joint Kit (available in single kits or packs of 5)
HCL/### – Hex Cell Louvre
MR16 LEDs (available in Warm White, Cool White and Blue)
Downloads
---