Home » Hunza Outdoor Lighting » Hunza Ultra Range »
​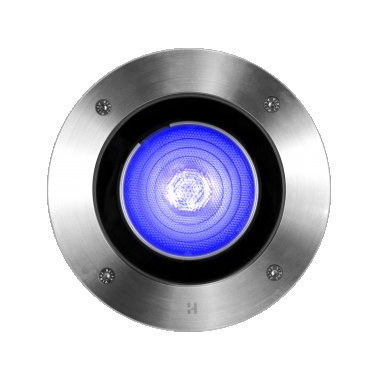 Hunza Ultra Safe Touch 100 RGBW
The Ultra Safe Touch 100 RGBW inground luminaire has been designed for uplighting in public spaces, incorporating a high-output, multi-colour LED system that is controlled by DMX to produce any colour in the visible spectrum, including pastels and various shades of white.
The RGBW LED system is superior to older RGB systems in that a range of warm white colour temperatures can be achieved, as well as a much more extensive range of subtle hues.
This fixture operates at very cool lens temperatures so it is safe for any public spaces and it has a fully adjustable gimble allowing 360° rotation and 0-20° elevation.
Finishes



| | |
| --- | --- |
| Output: | 1400 Lumens @ 350mA |
| Lumens Per Watt: | 54 Lumens @ 26 watts |
| Colour Temperature: | RGBW (White CCT 6500) |
| CRI Warm White (3000°K): | RGBW (White 75) |
| Beam Angles: | 13°, 30°, 50° |
| Ingress Protection: | IP67 |
| Standards: | UL 2108, CE |
| Recommended Power Supply: | Remote (Series) Driver, Retro 110/240 volt driver |
Spec Sheets

Ultra Safe Touch 100 RGBW
Instructions

Ultra Safe Touch 100 RGBW


Ultra Safe Touch 100 RGBW Wiring
Photometrics

Ultra Safe Touch 100 RGBW 13°


Ultra Safe Touch 100 RGBW 20°


Ultra Safe Touch 100 RGBW 25°


Ultra Safe Touch 100 RGBW 34°
Ultra Safe Touch 100 RGBW 13°

Ultra Safe Touch 100 RGBW 20°

Ultra Safe Touch 100 RGBW 25°

Ultra Safe Touch 100 RGBW 34°